Synergy H1 Hybrid Micro. Reader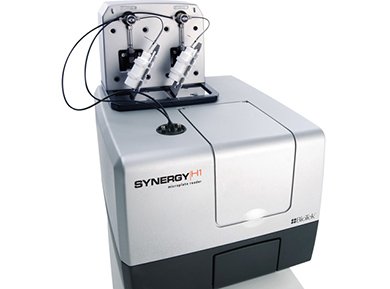 ​
Manufacturer: Biotek
Location: Britanya 15A
Internal User Price: 25NIS/hour
External User Price: 20$/plate
Acquisition Date: 2019
Synergy™ H1 is a flexible monochromator-based multi-mode
microplate reader that can be turned into a high-performance
Hybrid System with the addition of a filter-based optical module.
The monochromator optics use a third generation quadruple
grating design that works at any excitation or emission wavelength
with a 1 nm step.
Features:
Patented Hybrid Technology™ combines flexible
monochromator detection with high performance dichroicbased
filter detection
Green FP filter set: EX 485/20 | EM 528/20 | DM 510, polarizers
Automatic top and bottom epifluorescence read modes optimized for both sensitive homogeneous and cell-based assays Software-controlled automatic probe height adjustment with built-in plate sensor to prevent probe crashes Scanning monochromator for wavelength scans to identify peak absorbance and provide full spectral analysis Luminescence measurements with top detection for best sensitivity Reads 6- to 384-well plate formats including PCR trays and Terasaki plates Well area scanning for popular cell-based assays Time Resolved Fluorescence capability and FP.
​